Flat White vs Latte and Chai Latte – The Insiders Guide to Coffee #2
Last week we talked about how to make the Espresso, Short Black, Ristretto and Macchiato and how to perfect 'the shot'. If you missed it, read all about it in our previous blog. This week we're focusing on the languorous Latte and its antipodean cousin the Flat White.
This popular coffee originated in New Zealand and Australia in the 1980s (there is, of course, some friendly debate about exactly where) but is slowly spreading its tentacles around the globe, much to the relief of expats.
Usually made in a regular size cup, a double shot of espresso (all our coffees are double shot unless the customer asks otherwise) is extracted to 30–50ml in 20–30 seconds. This is topped with 0.5cm of medium textured, velvet milk. A good flat white is about packing as much taste and texture as possible into a small package.
Latte
A latte is essentially a larger, milkier version of a flat white. You might say the main difference between the two is the ratio of milk and espresso. Made in a large cup, a double espresso is also extracted to 30–50ml in 20–30 seconds. This is topped with 1cm of medium textured, velvet milk.
A perfect latte should have the texture of liquid velvet or silk.
Chai Latte
This popular alternative for non-coffee drinkers was originally made with a strong brew of black tea, spices and steamed milk. We use an excellent Chai powder with steamed milk for our delicious brew. Chai Latte translates as 'tea with milk'. Fans of Chai Lattes enjoy the influences of such fragrant spices as cinnamon, cloves, and cardamom. It's an enticing brew!
Latte Art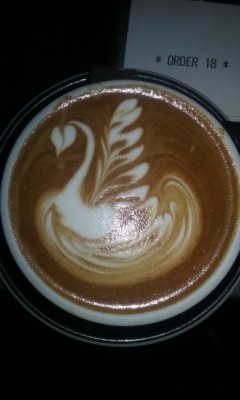 As the great coffee writer, Coffee Geek, says: "Much like rubbing your tummy and tapping your head, pouring latte art requires that you do two things at the same time. Pour the milk at a consistent and even rate AND shake the pitcher side to side with the even tempo of a metronome."
Latte art has become increasingly popular with baristas creating incredible designs in steamed milk on the top of their coffee. It's something we're known for here at Watery Mouth and it's quite a skill. We think taking pride in your work is really important and you need to be able to show it. Free pouring milk and producing latte art is one way our barista can show it – and share their love of good coffee with our customers.
Important question: Should you make coffee first or steam the milk first?
That's kind of a trick question! The art of making good coffee is to do both at once – for the ultimate freshness. As the coffee is being extracted, we work the milk – then bring them both together at their peak for that great fresh coffee goodness.
For the home barista: it can be a tough one to master – but practise makes perfect, and think of all those lovely coffees you can drink while you master the art!
And if all this talk about coffee has got you thirsting for one – you know where to find us!
Until next time…
Cheers,
Juliet.